mineral jewelry
concept
Timeless jewels in the accessible jewelry world.
Childhood memories deeply remains in our head, the south of France, the intense blue of the sea and the golden hour…
mineral is you, mineral is us
who is the
mineral woman ?
Futuristic and bold, the min&ral woman feels at one with nature. She pulls back from depth an original creative energy. As a mermaid she adorns herself with all the treasures from her miraculous fishing: sea stars, anemones, jellyfish…
Swaying between transparency and opacity, the gems are dressed with marbled, oxidized reflections with a patina aspect. They play with all the optical illusions and are enshrined in the organics and minerals architectures. Its iridescent range borrows from nature green, bluish, shaded, silver pearly, gilded reflections… transcending the real at the frontier of the precious.
our values
The location, the know-how and the knowledge gained
in these last 126 years
philanthropy
min&ral raises 1€ for a turnover of 50€.
actions
We only use natural stones
We stand for transparency concerning the origins of our jewels
Our jewels are made in the ethical and eco conscious gold warranting their traceability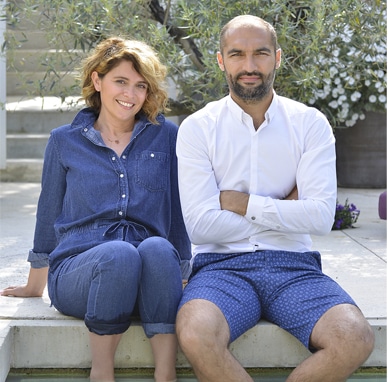 us
The duo-couple Julie & Anthony Berard, spouses but also parents of two kids Lola and Gaspard. It's with great pride that they finally launch their brand which combines precious metal and natural stones: min&ral is a brand which looks like the southern colors and fineness.
After many and diverse experiences, Anthony joins his father, Daniel Berard within the family business. After seven years of close partnership full of valuable lessons, Anthony carries forward the business assisted by Julie as Daniel and Isabelle did before. The alchemy takes place: Julie is in charge of the administrative and financial part, supporting Anthony's actions, the business man and jewellery designer. Both are dreaming of major projects like a brand … And today, this is with great emotion that they present you the brand.
we've been looking forward
since 1892
My ancestor, Ferdinand Clarency started his activity as a sworn seller in jewelry. He has developed his business for 30 years and then he passed it to his son, Aimé Mandine. The family company is developing then and shifting towards jewelry making. Today, La Maison Mandine is still rooted in Provence.
We create designs, concepts and world closely linked to large networks of jewels and fine French jewelry. The aim is to improve their image thanks to their creativity and the mastering of the most rigorous production techniques. Our jewels are prized for their beauty and their manufacturing quality. But having « no name », they are not well known.Our idea is then simple: the creation of a brand.
Anthony Berard business executive since 2015 (6th generation) Aimé Mandine's great grandson.